Bitcoin's commercial history
Bitcoin has come a long way from its early days, when there was practically no way to spend it. May 22, 2010, is often cited as the day of the first commercial bitcoin transaction. 10,000 BTC was used to buy 2 pizzas. This transaction didn't happen between a customer and a business, rather one person traded 10,000 BTC to another. The second person then purchased the pizzas and sent them to the first person's home. The day has come to be known as Bitcoin Pizza Day. You can check here to see how much those two pizzas are now worth.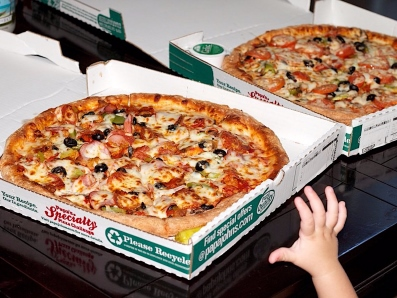 Present day
There are any number of indications of Bitcoin's progress from person-to-person pizza bartering, to becoming a major payment option. Twitter now allows Bitcoin tipping directly on the site. You can now fund your PayPal purchases with crypto, which effectively means wherever PayPal is accepted, so too is Bitcoin and several other select cryptocurrencies. Finally, if you happen to be in El Salvador, the country has become the first nation to adopt Bitcoin as legal tender. There are already rumblings that other countries are considering to follow.
How to spend bitcoin and crypto
Unless you're using a Bitcoin or crypto debit/credit card, you'll need a Bitcoin or Crypto "wallet" if you want to spend bitcoin and other cryptocurrencies.
Read more: What is a Bitcoin wallet?
As for which wallet to choose, there are a variety of options out there. We invite you to try the easy-to-use Bitcoin.com Wallet. It supports payment in Bitcoin (BTC), Bitcoin Cash (BCH), Ethereum (ETH), and ERC-20 tokens wherever they are accepted.
As for how payment works, if you're paying in person, you'll typically use your phone to scan a QR from the merchant's point-of-sale app. If you're buying online, on the retailers' checkout page, just select Bitcoin (or other crypto where applicable) as the payment method and follow the instructions.
Where to spend bitcoin and crypto
Below are some examples of businesses that now accept Bitcoin and other cryptocurrencies. There are many more, and we encourage you to use our constantly updating list. We also suggest our interactive map, where you can find businesses near you that accept Bitcoin (BTC), Bitcoin Cash (BCH), Ethereum (ETH).
Online retailers
Amazon is conspicuously absent, but there are plenty of choices for specific retail categories.
Travel companies
Travel and travel-related services are a very competitive industry. From a business perspective, accepting Bitcoin and cryptocurrencies is a great way to differentiate oneself from the competition. From a consumer perspective, not only is it a great way to spend your crypto, in some cases you can receive discounts and loyalty points.
Expedia: One of the most popular online travel companies.
Travala: This online travel company is crypto-first, accepting dozens of cryptocurrencies and providing users with an attractive loyalty points system. Note: Travala is integrated into the Bitcoin.com Wallet from the Discover tab.
Virgin Galactic: Accepting bitcoin as a form of payment for space tourism.
Gaming
With most gaming purchases happening digitally, it's no surprise that there are Bitcoin and cryptocurrency options.
Gift cards
For retailers that don't accept Bitcoin as a form of payment directly, you still might be able to use gift cards purchased with Bitcoin or other cryptocurrencies.
Via the Bitcoin.com Wallet
The Bitcoin.com Wallet makes it easy to spend your crypto. In the Discover section of the app you'll find the following:
An interactive map to find businesses near you that accept Bitcoin, Bitcoin Cash, and Ethereum.
A gift cards space where you can browse through a huge list of retailers.
Integrations with services where you pay with crypto for travel, games, software, and more.