Function
Token sales may serve one or more of the following functions:
a method for distributing tokens to a community of participants
a way to align the interests of a community behind a new project
a way to fund a project's early development.
Participation
Buying in a token sale typically entails registration or "whitelisting" via the project's website. This often involves a Know-Your-Customer (KYC) procedure, where buyers are filtered to ensure the token sale complies with local regulations. Whitelisted buyers are eligible to purchase in the sale when it goes live and orders are typically accepted on a first-come, first-serve basis.
Method of payment
Major cryptocurrencies such as Bitcoin, Ethereum, and U.S. dollar stablecoins like USDT and USDC are the most common methods of payment for token sales. In some cases, payment is accepted in local currencies like dollars or euros.
Use of funds
Funds received in a token sale are often converted to U.S. dollar stablecoins and held in the project's treasury. From there, the funds are used to pay project-related expenses such as compensation for developers, bounties for project-related tasks, marketing, and so on.
Allocations
The tokens made available to buyers in a token sale are usually just a portion of all the tokens that will ultimately be issued by the project. For example, a token sale may offer 20% of the planned total supply of tokens. The remaining 80% may be reserved for team members, a development fund, airdrops, ecosystem incentives, and more. Note that some projects, such as Ethereum, don't have a pre-defined token supply. In that case, the amount allocated in the token sale can't be expressed as a percentage of the token supply.
Structure
Token sales come in a wide variety of shapes and sizes, and have evolved significantly over time. The best token sales are typically structured to consider ways to:
balance the need to compensate the earliest buyers while ensuring later buyers also get a fair price
ensure a wide distribution of tokens beyond just buyers
incentivize buyers to support the project in the long-term
control the rate at which tokens hit the market in order to reduce secondary market price volatility.
The following are some common features that have evolved as ways to achieve the above:
The sale takes place in rounds. Rounds are usually structured such that the price per token is higher the later it is purchased. Some token sales are dynamically priced, where the price per token depends on the dollar amount contributed (the more money contributed, the higher the price per token).
Token sale buyers must wait to receive their purchased tokens. In some cases, all buyers will receive the tokens at the same time. In other cases, tokens will vest or "unlock" over a pre-defined schedule that is written in the smart contract that defines the token sale. Vesting schedules may depend on which round tokens were purchased in. For example, a sale might be structured such that in the first unlock 25% of tokens purchased in round 1 vest whereas 50% of round 2 tokens vest. This structure would ensure that the earliest buyers (who got the best price) hold more of their tokens for longer.
Tokens distributed via the token sale account for a small fraction of the total supply of tokens. This ensures there are plenty of tokens available for market participants other than token sale buyers. In some cases a large percentage of tokens are reserved for airdrops, where tokens are given away to ecosystem participants. This can help to ensure a wide distribution of the token and strengthen the project's community.
History
Mastercoin is credited as the first token sale, being held in July 2013. A utility token for a supplementary protocol to Bitcoin, the Mastercoin token sale raised about $500 thousand, paid entirely in BTC.
The Ethereum token sale, held in 2014, was the biggest token sale up to that point. It raised approximately $18.3 million, also paid in BTC.
Late 2017 marked the start of the so-called ICO boom, where hundreds of projects conducted hastily constructed token sales, raising the equivalent of billions of dollars, often paid in ETH. Many of those projects never followed through on the claims laid out in their white papers, leaving buyers with tokens that had little or no utility or liquidity.
The following is a list of the top-10 biggest token sales by amount contributed: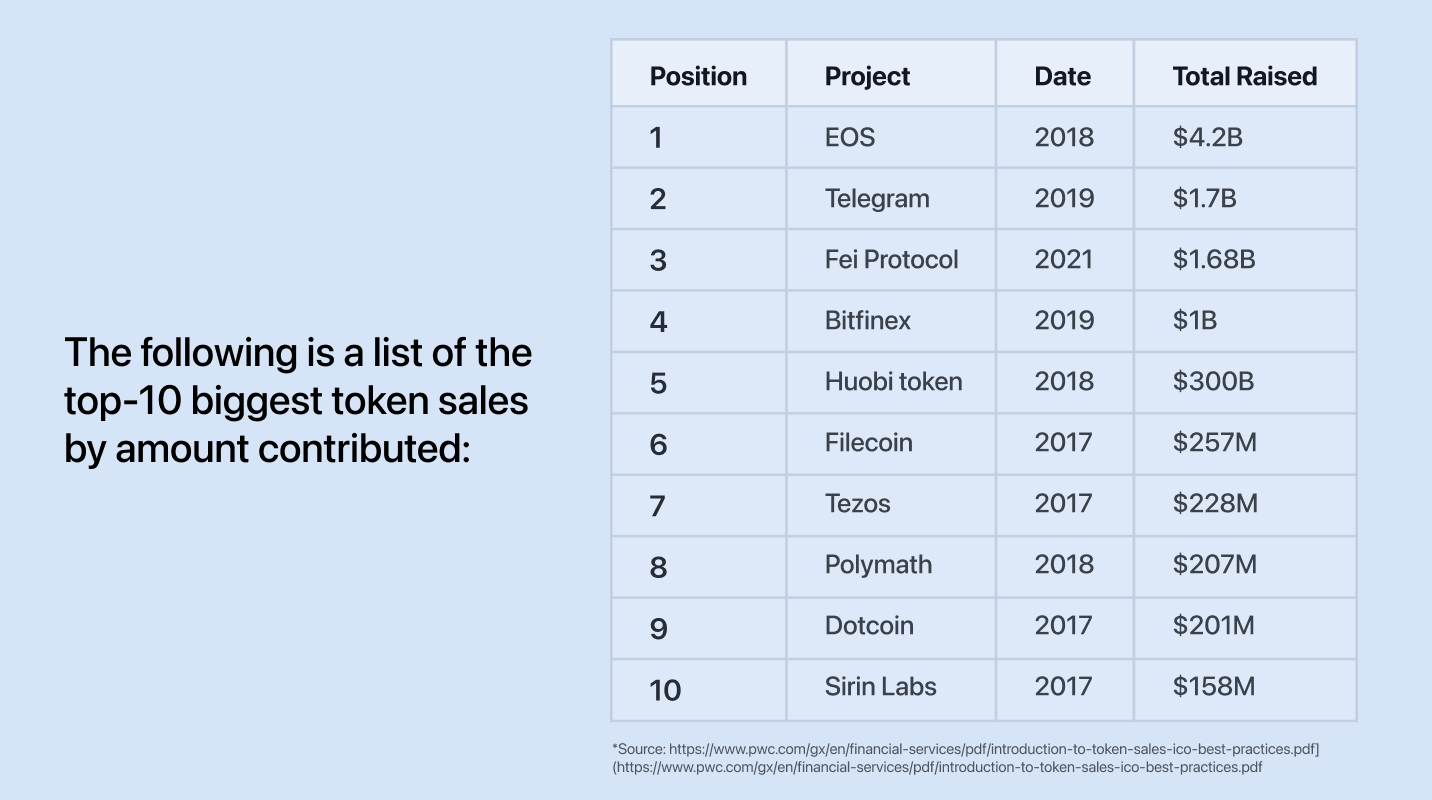 Sources: PWC.
Performance
In many cases, participation in a token sale has been extremely lucrative. Let's look at some notable examples:

Sources: Coincodex and Coinmarketcap.