Why VERSE?
Since 2015, Bitcoin.com has been a global leader in introducing newcomers to cryptocurrency. Our mission is to create economic freedom, which we define as the ability for individuals to freely acquire and use personal resources however they choose. We build products and services that give everyday people access to a vast world of opportunities to generate personal prosperity without limits.
By providing a powerful combination of rewards and utility, VERSE will help expand access to decentralized finance (DeFi). Ultimately, this will enable more people to safely benefit from the economic freedom and democratized finance it unlocks.
Read the Verse white paper here to find out more about the Bitcoin.com ecosystem, how VERSE fits in, and the synergy created.
What can VERSE be used for now?
For now VERSE utility includes liquidity providing and yield farming on Bitcoin.com's decentralized exchange Verse DEX. The Verse DEX is a core piece of infrastructure in the Bitcoin.com Verse ecosystem as it enables permissionless and low-fee trading. To function efficiently, Verse DEX needs to attract sufficient liquidity from market participants. Liquidity, as measured by total value locked (TVL), is a key measure of the health of a decentralized exchange. Rewards for liquidity providers and Verse Farms rewards are designed to incentivize the growth of liquidity on the Verse DEX. Learn more about Bitcoin.com's Verse DEX here.
Earn VERSE by providing liquidity on the Verse DEX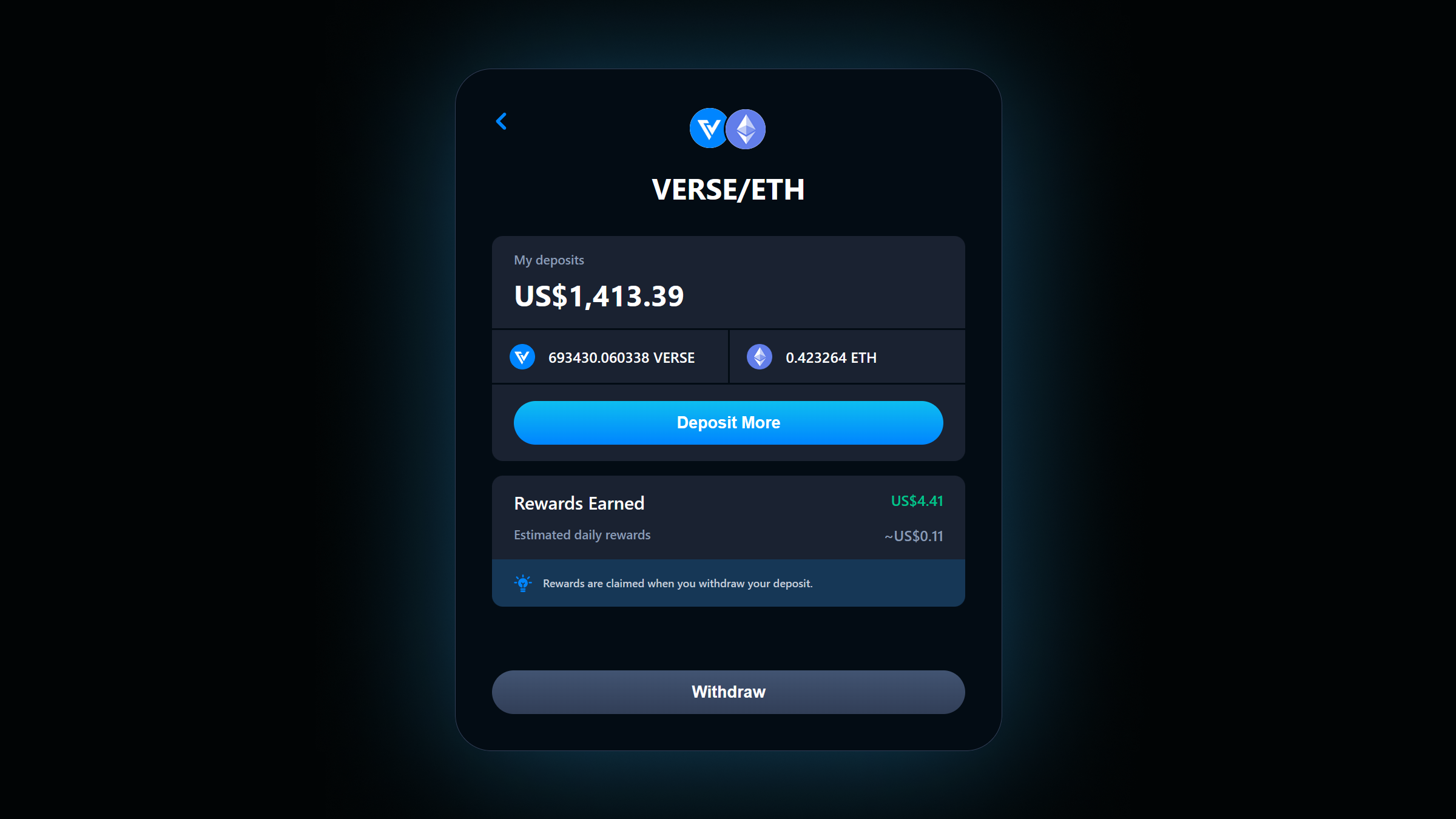 You can start earning VERSE (and other cryptocurrencies) by providing liquidity to any VERSE pool on the Verse DEX. Check the rewards, measured in APY, available right now on Verse DEX pools here. This step-by-step guide explains how to contribute to liquidity pools and earn yield on Verse DEX.
Earn up to 250% APY in Verse Farms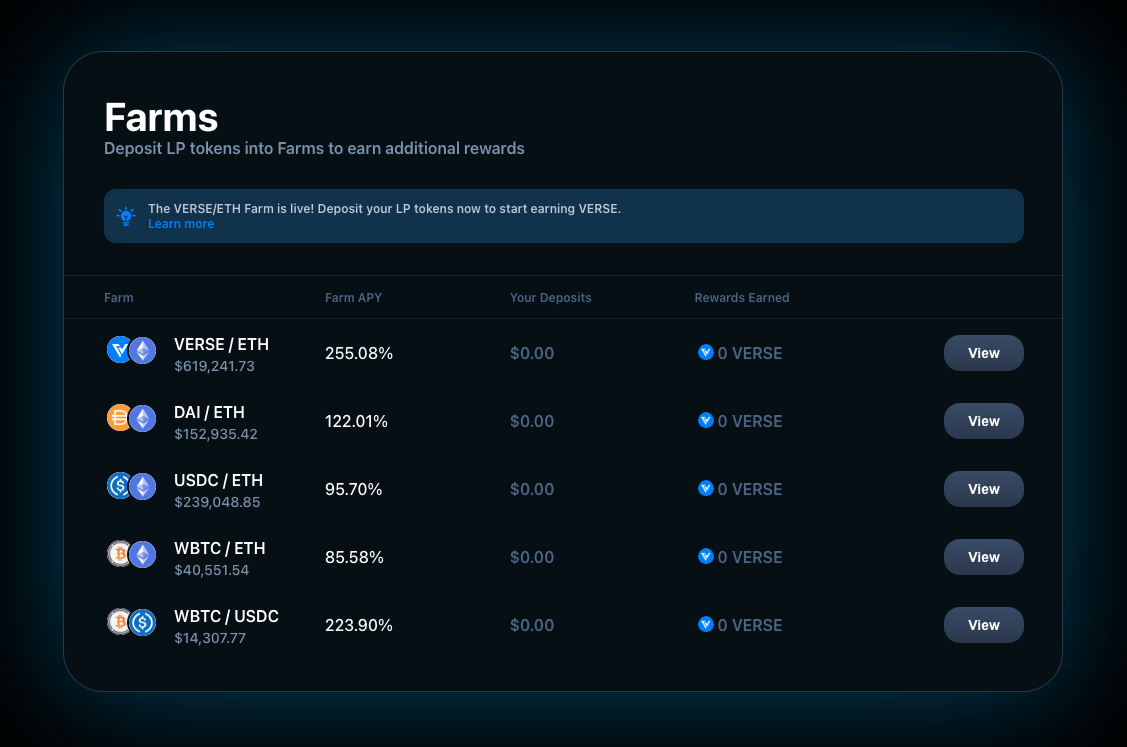 Anyone can deposit select Liquidity Pool (LP) tokens into Verse Farms and start earning. Learn more about Verse Farms, how you can start earning APY, where the yield comes from, and get answers to other frequently asked questions with this guide.
How can I buy or trade VERSE?
You can buy VERSE with cash here or trade VERSE in the Bitcoin.com Wallet, via Bitcoin.com's decentralized exchange Verse DEX, and through a range of third-party exchanges and service providers. Please find more details on this page.
Here's how easy it is to swap into VERSE using the self-custodial Bitcoin.com Wallet:
Verse in detail
VERSE is an ERC-20 token that lives on the Ethereum public blockchain. Bitcoin.com is dedicated to ensuring that VERSE has wide utility for everyday people, which is why VERSE will be integrated across low-fee chains.
A maximum of 210 billion VERSE will be minted over seven years starting from the contract deployment date, which was Dec 7, 2022. The majority of VERSE tokens (69%) are reserved for community and ecosystem development, which you can read more about here.
The VERSE tokenomics are designed to support longevity and growth.
VERSE had a fair launch: We created a highly publicized multistage token sale where 1) The sale terms were public, and 2) There were no steep discounts between rounds.
There are no cliffs: VERSE tokens purchased in the sale began unlocking on day 1, and continue unlocking for 12 to 18 months. Team tokens also unlock linearly, but over a four-year period.
Buyback and burn: We've baked an ongoing deflationary mechanism into Verse where a portion of all the fees generated will be used to buy back and burn VERSE.
Community development: The VERSE token will spearhead initiatives to accelerate growth and innovation. The Verse Development Fund (34% of total supply) will provide a pipeline of resources for DApps integrating with the ecosystem and will incubate token projects through the Bitcoin.com launchpad service (coming soon).
Learn more about Verse